Having worked through Paul McGowan's book, Audiophile's Guide: The Stereo – Unlock the Secrets to Great Sound, in this next part, I'll describe the process I followed to integrate the excellent SVS 3000 Micro subwoofers. I'll wrap up by building FIR filters for use with Roon's convolution engine. Here's a link to the start of this series.
Polarity
It's pretty easy to set subwoofer polarity by ear, but Room EQ Wizard and a calibrated mic make the process entirely error-proof. Making adjustments to subwoofer location and settings without getting polarity right is a complete waste of time. To determine the correct polarity setting, I moved my listening chair out of the way, placed my mic precisely between where my ears would be, and ran three sweeps: sub effectively disabled, positive phase, and negative phase. Here are the plots: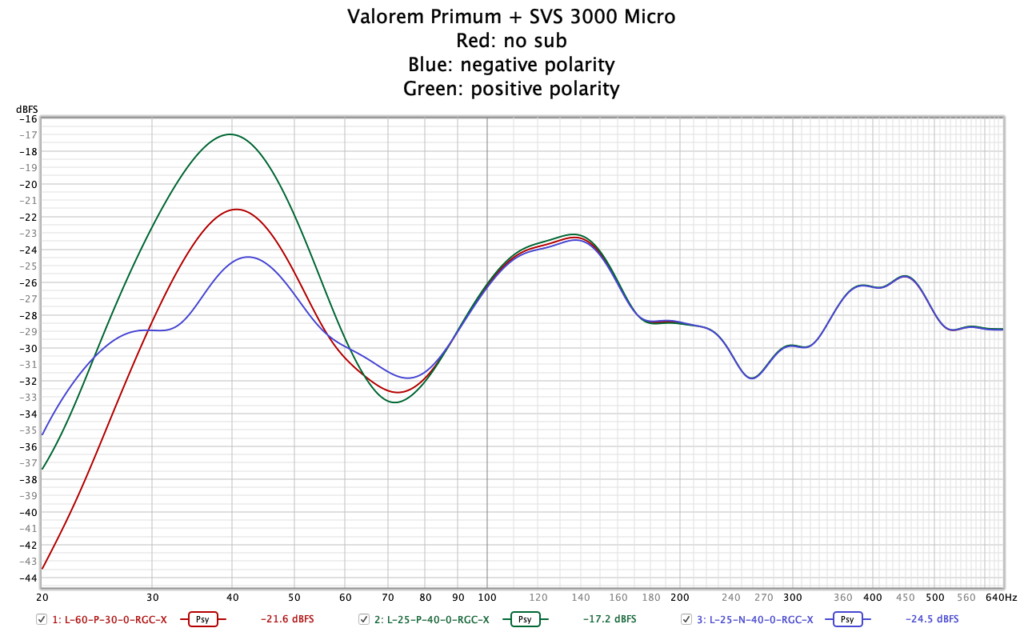 I want a polarity setting that results in the sub mirroring the loudspeaker's native response but with more output at lower frequencies. Although the blue curve (negative polarity) produces a smoother overall frequency response, you can see that it's fighting with the mains. The green curve runs parallel to the speaker's native response, although the trough at 72 Hz is a dB or two deeper. Some of that may be resolved by moving the sub to another location. Thank goodness these subs are small and easy to slide around! I should also mention that the SVS mobile app is absolutely brilliant for making changes to polarity and settings without having to get up and fiddle with buttons on the back.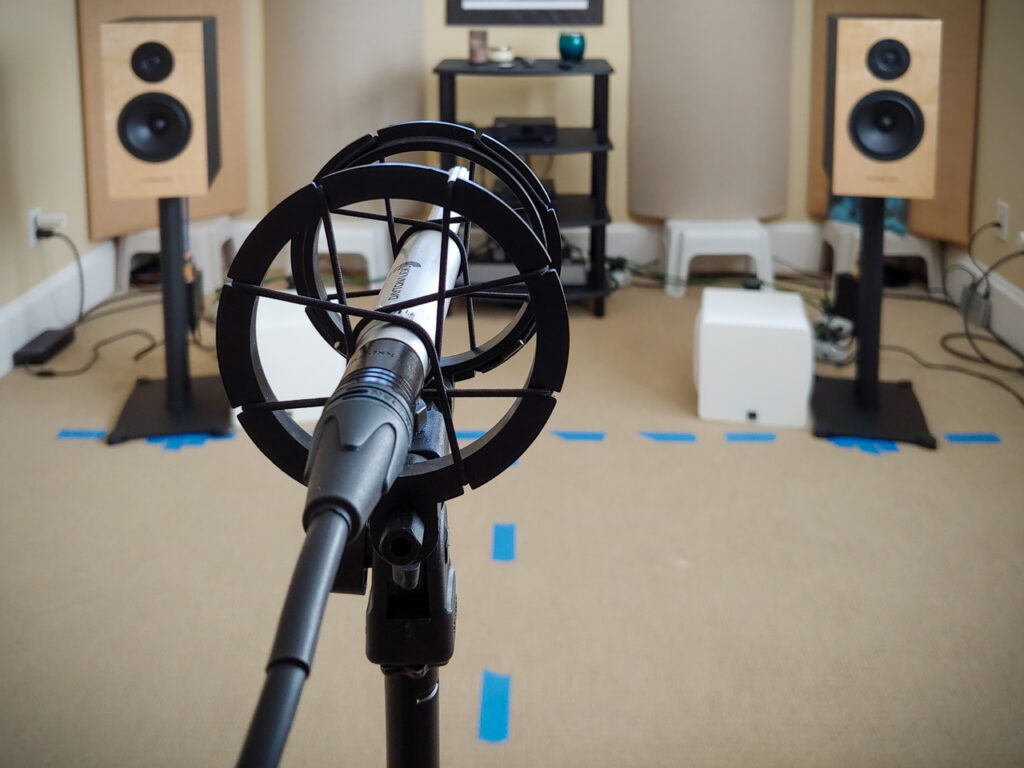 Placement and Settings
With polarity sorted, there are many more dimensions in subwoofer integration to explore. I tried placing the subs behind the main speakers, to the outside, and to the inside. I ultimately discovered that inside resulted in the best summing of output from the subs and mains based on REW measurements. Visually, I'd prefer to tuck them into the corners. Still, the sonic improvements justify the more upfront location, permitting me to move on to exploring settings for phase, crossover frequency, and slope, and optimal output levels. I took many measurements of both the left and right channel, but the plots below show the mains without subs and the best combined output: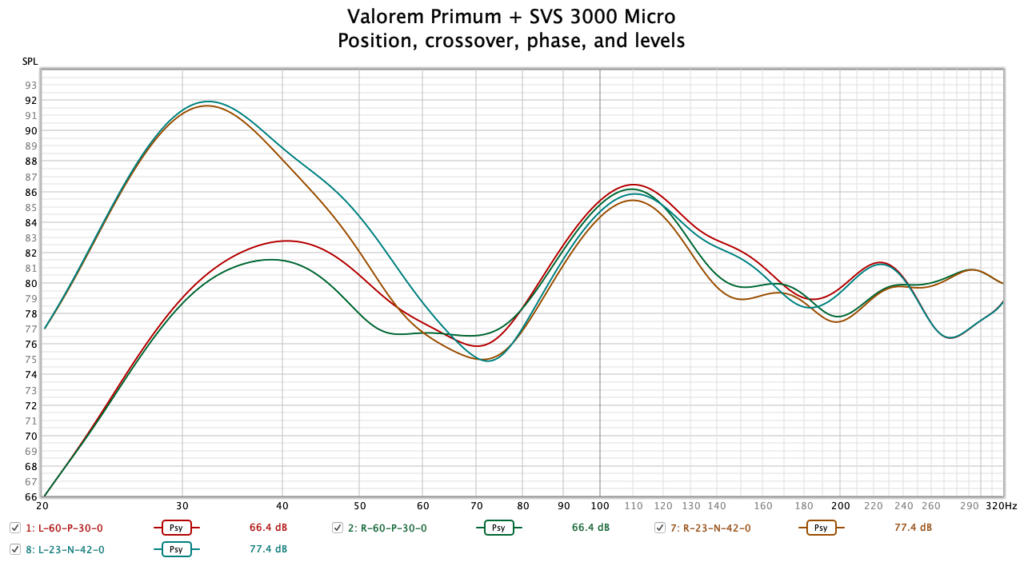 Here, I was looking for settings that extended the reach of the Valorem monitors without detracting from their performance above the 42 Hz crossover point. I also wanted to minimize deviations between left and right channels. I found that the default 12 dB/octave slope produced the smoothest integration, confirmed by both measurements and listening. Still, despite my best efforts, the response deviates +/- 8 dB from the target response we'd like to see, which is a downward sloping flat line that drops by about 1 dB per octave. Welcome to small-room acoustics.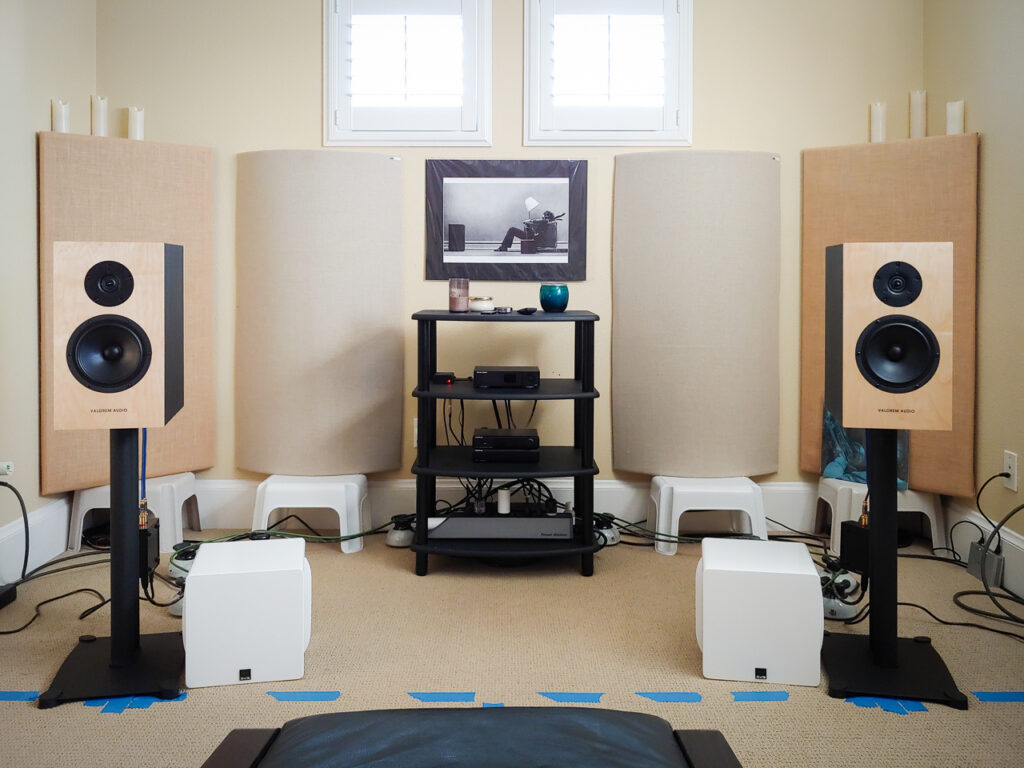 Although the human brain does an excellent job of hearing past these deviations in response, some details in music will be obscured, and the unevenness will benefit some recordings while being detrimental to others. We want the playback system to deliver an engaging listening experience for as wide a range of music as possible. To fully get there in a small room, we will have to even things out more than is practical with bass traps and passive room tuning alone. This is where advanced DSP enters the picture…and NOT before all other measures are employed to the greatest extent practical.
DSP – the Icing on the Cake
Since I'm a digital audiophile, DSP is relatively straightforward to apply. My content and sources are already in the digital domain, so I do not have to convert from analog before applying digital signal processing. I use Roon as my primary media player, and current versions incorporate a powerful convolution engine that supports advanced frequency and time domain correction through FIR (Finite Impulse Response) filters. However, Roon does not provide facilities to create such filters. For that, I use Acourate by AudioVero. The process involves recording a pair of sweeps (similar to REW) and then using sophisticated algorithms to compute filters that will achieve the desired frequency, phase, and time domain response.
A delicate dance is required to select parameters that produce a nice balance among these three domains. The key to successful full-range correction is avoiding overcorrection above the room's transition frequency, which is usually around 200 – 300 Hz. Acourate has helpful tools that allow for detailed modifications at lower frequencies with only gentle shaping above transition.
Like many DSP solutions, Acourate will display predicted results after correction; however, I prefer to verify these by playing a prerecorded sweep through Roon and using REW to analyze the results. This removes Acourate from the equation, allowing me to confirm the results end-to-end. The plots below show early and later iterations of the response after correction: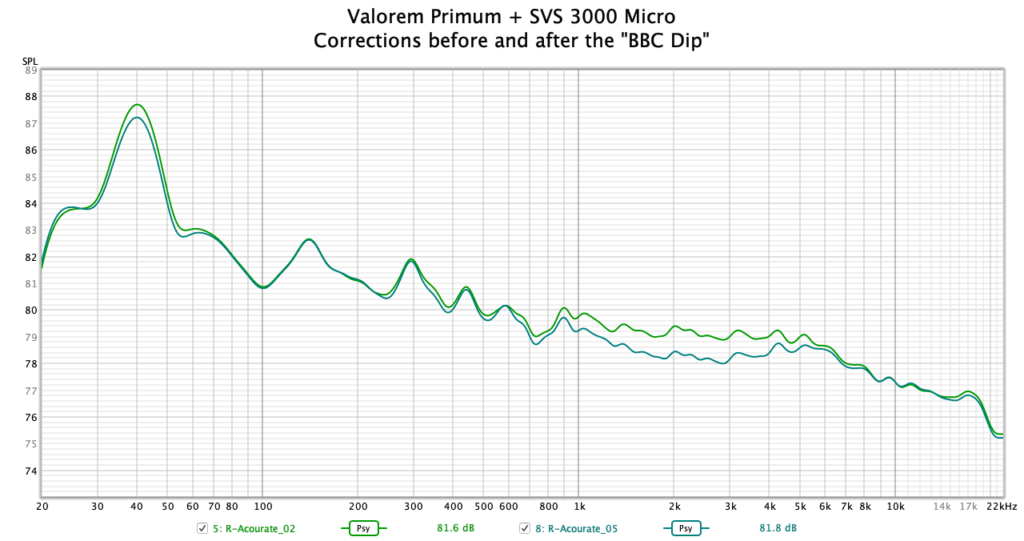 This plot may look erratic, especially with that massive hump at 40 Hz, but please note that the scale is rather tight. The response is actually +1/-3 dB from my target, which is excellent. The main difference between the two iterations is that I decided to add what Paul McGowan and others describe as the "BBC Dip." This essentially involves pulling frequencies from around 1 kHz to 3 kHz down by about a dB. The result is added depth in this critical range, and you know what? It really works. I love it.
I've gone through three more filter iterations since the "05" version you see in the graph above, doing fine-tuning by ear. Subsequent iterations reduce that 40 Hz hum by a dB or two. The results are genuinely delightful. This system renders reasonably well-produced music with lifelike tonality, dimension, and scale (assuming appropriate payback levels). Once I put something on, it's difficult to stop listening. What's most striking about the performance compared to previous iterations in the Loft is the gorgeous pitch definition and articulation in the bass. The SVS 3000 Micro subs are "Class A" recommended components in my book. They fall a few dB short of delivering the peak output of my REL T7i subs, but what's there exhibits excellent control, speed, and precision. Again, the mobile app was a delight to work with for getting things dialed in. Highly recommended.