For years, those wanting to get started with high-quality streaming had to spend upwards of $1k for something like the Sonore microRendu, Pro-Ject Stream Box S2 Ultra, SOtM sMS-200ultra Neo, or similar. Or, they could roll up their sleeves and build a network audio transport from a Raspberry Pi board, possibly adding cards from companies like Pi 2 Design, Allo, and HiFiBerry. Although I've probably helped over a hundred people go the RPi route, it's an ambitious path for non-computer people. I've had a tough time finding a product I can recommend that sounds great and is about as easy to use as a CD transport without breaking the bank.
I've been a fan of iFi Audio's transportable DACs, power solutions, and accessories for going on a decade now. So, I thought I'd give their new ZEN Stream product a try to see if it's the recommendable solution I've been looking for. Inside the box, right on top, I found a "Quick Start Guide," iFi's typical manual "card," and a warranty card. Right out of the gate, I spotted a few things that were concerning.
Networking
After making connections and powering up the device, the card advises me to enter "http://ifi.local" or "192.168.211.1" into my browser. Fortunately, the former worked, but the hardcoded IP address had me worried that the ZEN Stream was not configured to use DHCP. I can't think of any reason why a fixed IP address would be necessary. Since this is a streamer, it has to join whatever network you're going to use it with, or it won't be found by your media server.
Connections
There are two USB ports on the back. I knew that one was for a DAC and the other for removable storage, but the supplied guide and manual are of little help sorting out which is which. If you look closely, the green line on the guide originates from the bottom port. Had the arrow been drawn from the bottom of the device, the DAC port would have been more obvious. The manual card is even more misleading. It states:
a) Input - Connect to DAC
b) Output - Connect to HDD, USB DISK etc
Given the order above, you might assume that the top port is for the DAC, but you'd be wrong. Also, the words "input" and "output" are reversed relative to the ZEN Stream. The ZEN's USB Output goes to a DAC, and it has a USB Input for connecting external storage. I'm being picky, but I want to recommend this device to non-technical audiophiles, so clarity is essential.
Capabilities
The card describes LED colors and format support for PCM rates up to 384 kHz and up to DSD256. That's plenty, but I have several DACs that support DSD512 and (exactly) one album that I bought in that format (actually, recommended by iFi Audio). I have successfully streamed 32-bit, 768 kHz PCM and DSD512 to my old iFi micro iDSD via a Raspberry Pi 3 Model B+ over Wi-Fi. I know SoC processors like the one used in the Stream can support higher rates without breaking a sweat. The 384 kHz limitation seems somewhat arbitrary, even though it's not particularly material, practically speaking.
Settings and Modes
Before I get to this, let me just say that I was impressed by the mass of the ZEN Stream as I pulled it out of its box. It's chunky and feels solidly built. This is not a cheap plastic toy; it's a real audio component.
In the default "all-in-one" mode, the device joined my network, and I was able to open a browser to http://ifi.local/ and view the settings. As you might expect, all "Functionalities" were enabled: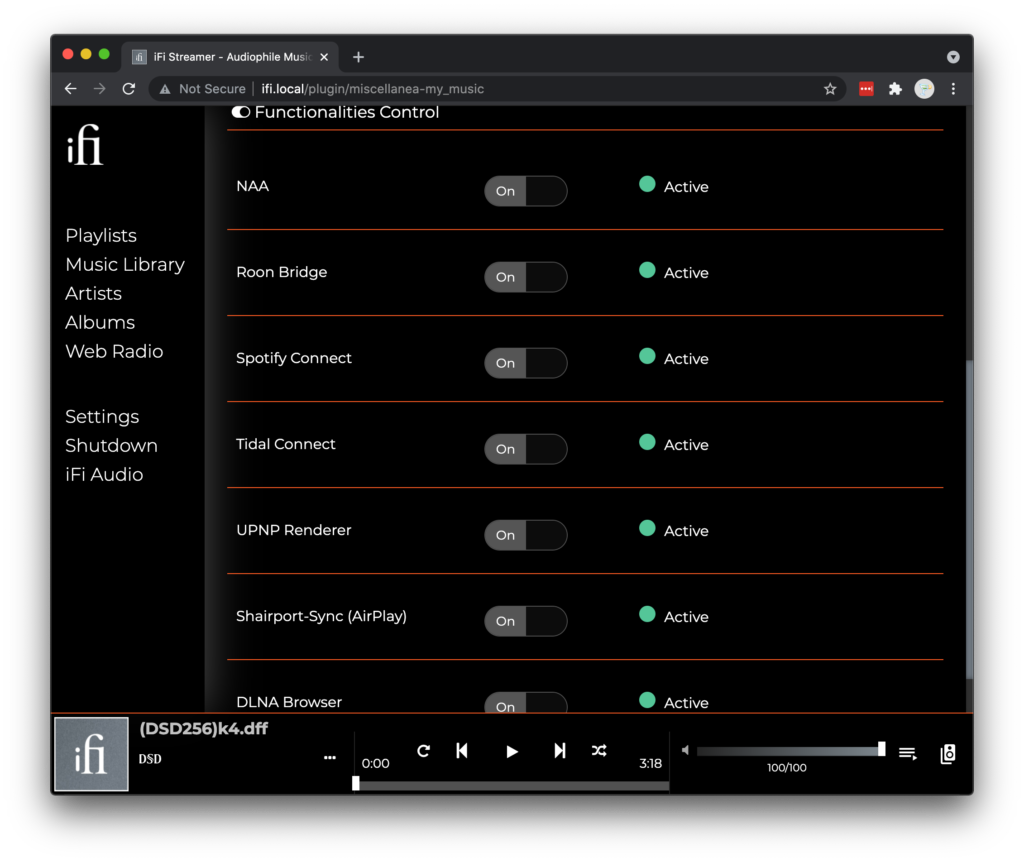 Since I plan to use the ZEN Stream exclusively with Roon, I used the provided orange plastic tool to switch the mode selector on the rear to "Roon only." Shortly after doing so, the web settings UI became unresponsive with only this swirling dots animation: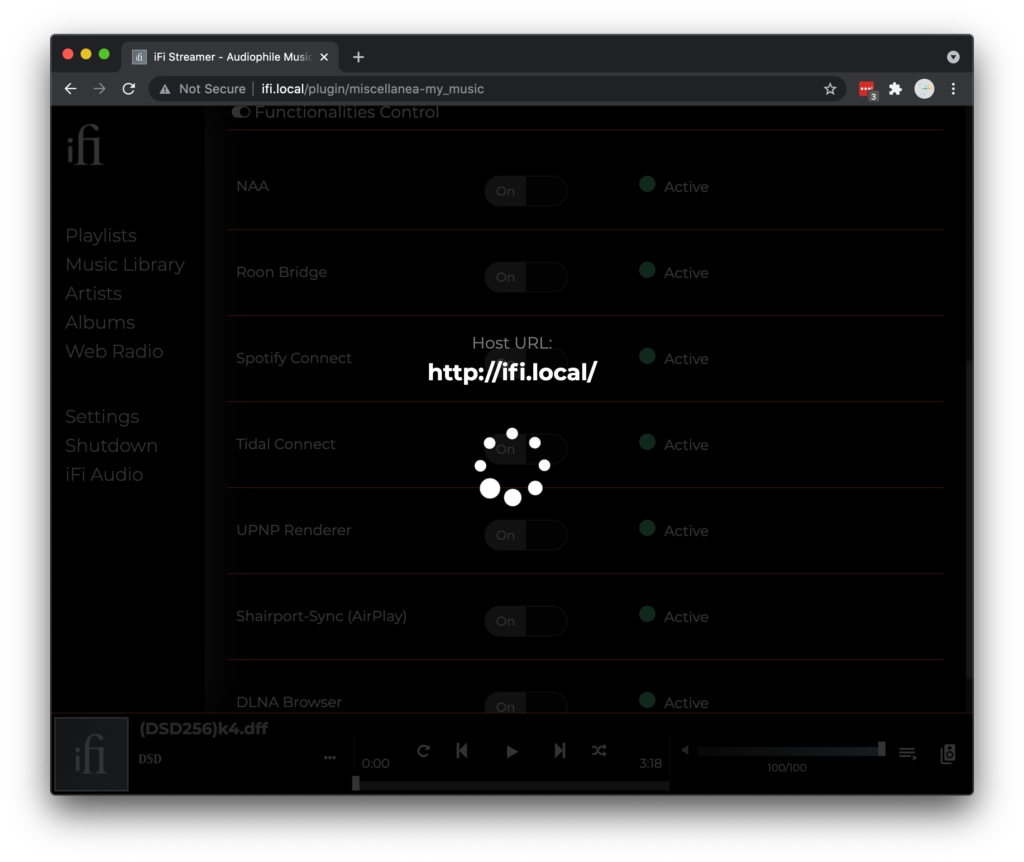 This was a bit disconcerting at first, but then I realized that "Roon only" mode really means Roon Only. The Web UI and other processes are shut down for audio purity, leaving only Roon Bridge running in the background. I quickly opened the Audio tab in Roon's settings (using the Roon control app) and found the iFi ZEN Stream waiting for me.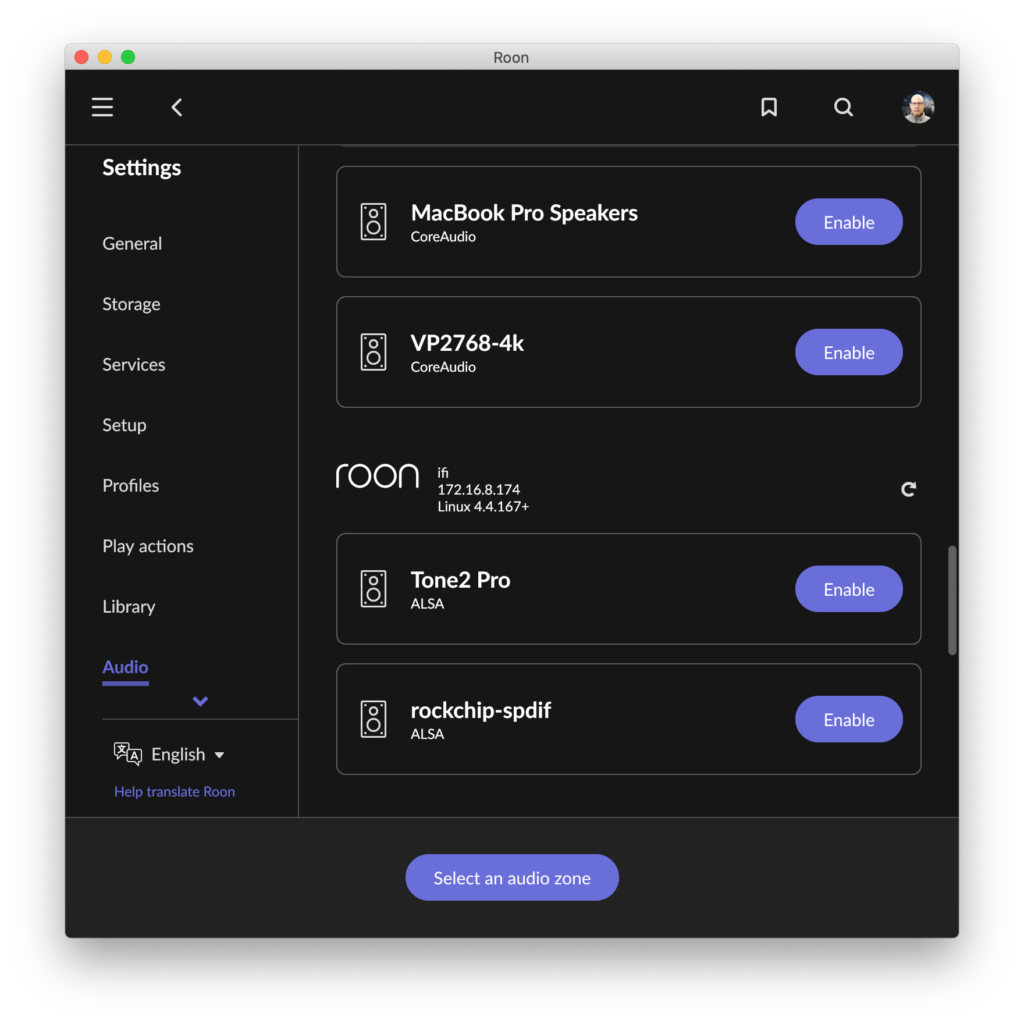 Roon Configuration
With a USB DAC connected, two outputs may be enabled in Roon. The "rockchip-spdif" is for the COAX S/PDIF output. While configuring the USB output, I was disappointed to find no native DSD support for my Khadas Tone2 Pro DAC. The reason is that the Linux kernel that iFi decided to use is from December 13th, 2018. My VitOS endpoints run kernel 5.4.80, which supports native DSD for the same DAC. I imagine I'll encounter this issue with my Gustard X16 and S.M.S.L. Sanskrit 10th V2 DACs. That's a bummer. I'm not sure why iFi Audio would choose such an old kernel for a brand new product. I'm hoping this is something that they will address via a firmware update.
Under Advanced Settings, Roon picked a default max PCM sampling rate of 768 kHz. This happens to be correct for this particular DAC. I realize that iFi said the Stream does not support rates above 384 kHz, but I thought I'd test it anyway. Enabling "Max PCM rate (power of 2) under the Sample rate conversion tab of Roon's DSP settings resulted in Roon quickly skipping through all tracks on the album I tested. Looking in the logs on my Roon server, I saw:
RAAT__OUTPUT_PLUGIN_STATUS_FORMAT_NOT_SUPPORTED
Another disappointment, but, to be fair, this is consistent with iFi's documentation for the ZEN Stream. After going back into Advanced settings for the zone and overriding the max PCM rate to 384 kHz, upsampling to max PCM rate works reliably. This is another gotcha that I'll have to bring to the attention of folks who take me up on my ZEN Stream recommendation. Roon may choose a default max sampling rate that the ZEN Stream does not support. Perhaps this will change after the ZEN Stream completes Roon Ready certification.
Impressions
I've been pretty tough on the ZEN Stream up to this point, but in reality, with a wired Ethernet connection, setup is about as plug-and-play as it could be. Roon users will find one or two outputs ready to enable under Roon's Audio settings a minute or two after power-up. Folks with DACs that support PCM rates above 384 kHz will have to override the max rate, and newer DSD DACs may have to be configured to use DoP instead. Neither of these is a serious issue.
So far, I've only tried the ZEN Stream in my headphones rig with the tiny Khadas Tone2 Pro DAC. I'm using balanced cables into the THX AAA 789 headphone amp and driving Sennheiser HD600 headphones, also with balanced cables. I don't know if I could tell the ZEN Stream and my VitOS streamer + iFi micro iUSB3.0 apart in a blind test. Still, I can say that I'm not hearing anything objectionable. The ZEN Stream seems to bring out the best in the fairly resolving Tone2 Pro DAC.
I'm looking forward to trying it with the Gustard X16, iFi NEO iDSD, and a few others. My minor quibbles notwithstanding, the ZEN Stream is an easy product to recommend. The $399 price may still seem spendy, but keep in mind that it's packed with a lot of kit. You get a 9V iPower ($49), S/PDIF iPurifier ($199), USB active noise cancellation ($109), Wi-Fi, and Ethernet, all assembled neatly in a solid, attractive case.
Firmware Updates
This may be the first device of its kind that I've ever powered up that did not require me to spend ten minutes or more installing updates. While that was a pleasant surprise, I am curious to know what the update process looks like. I assume that the USB-C "System upgrade port" is required, but I'm hoping it is intuitive and straightforward. I'm also curious to know if iFi will also support "over-the-air" updates. After all, the Zen Stream is a streamer. As such, it is connected to the network 24×7. Perhaps the USB-C port is a fall-back upgrade option for when over-the-air updates fail. Or it may be used when the device is left in Roon-only mode and unable to update itself automatically. Time will tell. For now, back to listening…
Latest News
A number of ZEN Stream owners, myself included, received 9V iPower adapters that were faulty. In my case, the 9V supply was outputting between 6.4 and 5.4 volts. In these rare cases, reach out to IFi And they will help you out.