This is a continuation of my review and notes as I work through Paul McGowan's book, Audiophile's Guide: The Stereo – Unlock the Secrets to Great Sound. Here's a link to the start of this series. Before I get into setting up the grid and describing what I'm learning from the listening tests, I thought you might like to know about the system I've put together for this exercise. While it is true that the room is the most critical component in any audio system, it doesn't do much on its own!
Paul describes three types of systems, Casual ($1k – $5k), Serious ($3k – $30k), and Whacky ($25k – $50k and up). My temperament is more on this hobby's cheap and cheerful side, but I am setting up a dedicated 2-channel listening room, so this system fits Paul's "Serious" range. Next to the room, loudspeakers have the most significant impact on sound; Paul recommends allocating 50% to 70% of the components budget to speakers for Serious systems.
Loudspeakers
The 10 ft width of my room dictates a relatively close listening position. As such, 2-way monitors and towers tend to work better than large multi-way systems as the latter type typically requires greater distances for all drivers to seamlessly integrate. I'm going with a pair of 7 in 2-ways from a relatively unknown company called Valorem Audio. These largish monitors are composed of a Scanspeak Discovery 18W/8434G-00 mid-woofer and ScanSpeak Discovery R2604/8320 Ring Radiator tweeter. While I don't know what these loudspeakers will retail for, the total cost in parts, including crossovers and enclosures, is probably about $450 for the pair (edit: actually, a little over $600). To make any money at all, the designer must mark them up by ~3x the materials cost, and that cost is usually around 40% of MSRP. So, my best guess is that the Valorem Audio Primum monitors will retail for a little over $3k/pair (edit: actually, about $1,800/pair, selling direct–no dealer network). Sonically, I feel they are competitive with other loudspeakers near this price point.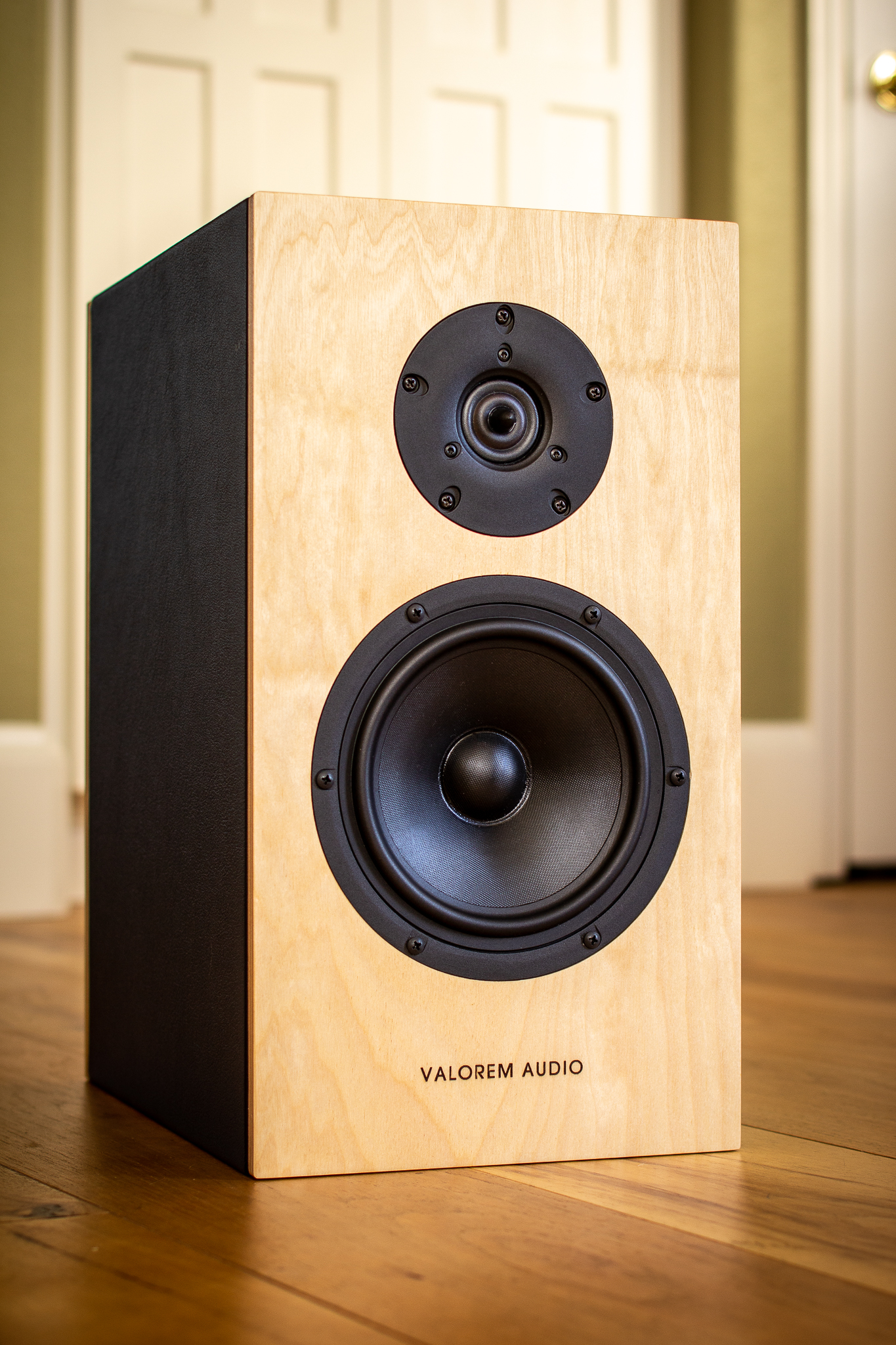 While bass output and extension are satisfactory from the Valorems, I am fortunate to have a pair of SVS 3000 Micro subwoofers that I'll integrate to add room pressurization. I've found that optimally integrated subs almost always add more to the listening experience than what they cost. This is especially true of small "audiophile" subs like the 3000 Micros. When I say "small," think roughly a 1 ft cube. Size is important here because dedicated listening rooms tend to be smaller; most audiophiles don't have space for hulking home theater subwoofers!
Amplification
I've selected component separates that are physically small, if not tiny, yet big on performance. Orchard Audio BOSC (Starkrimson®) monoblock amplifiers will drive the Valorem monitors with up to 150 watts of clean GaN Class D power. These amplifiers are so small and light (21 ounces or 600 grams) that they can be installed by hanging them from the speaker terminals via provided 1 ft cables. The short cable length maximizes the damping factor (rated at > 550). Later models of this amplifier claim an input impedance of 44kΩ; however, mine is part of the original release, so it's a relatively low 5kΩ, limiting preamp choices a bit. This amplifier's gain is only 16.8 dB, making an active preamp a must. These are essential factors to consider when assembling a system.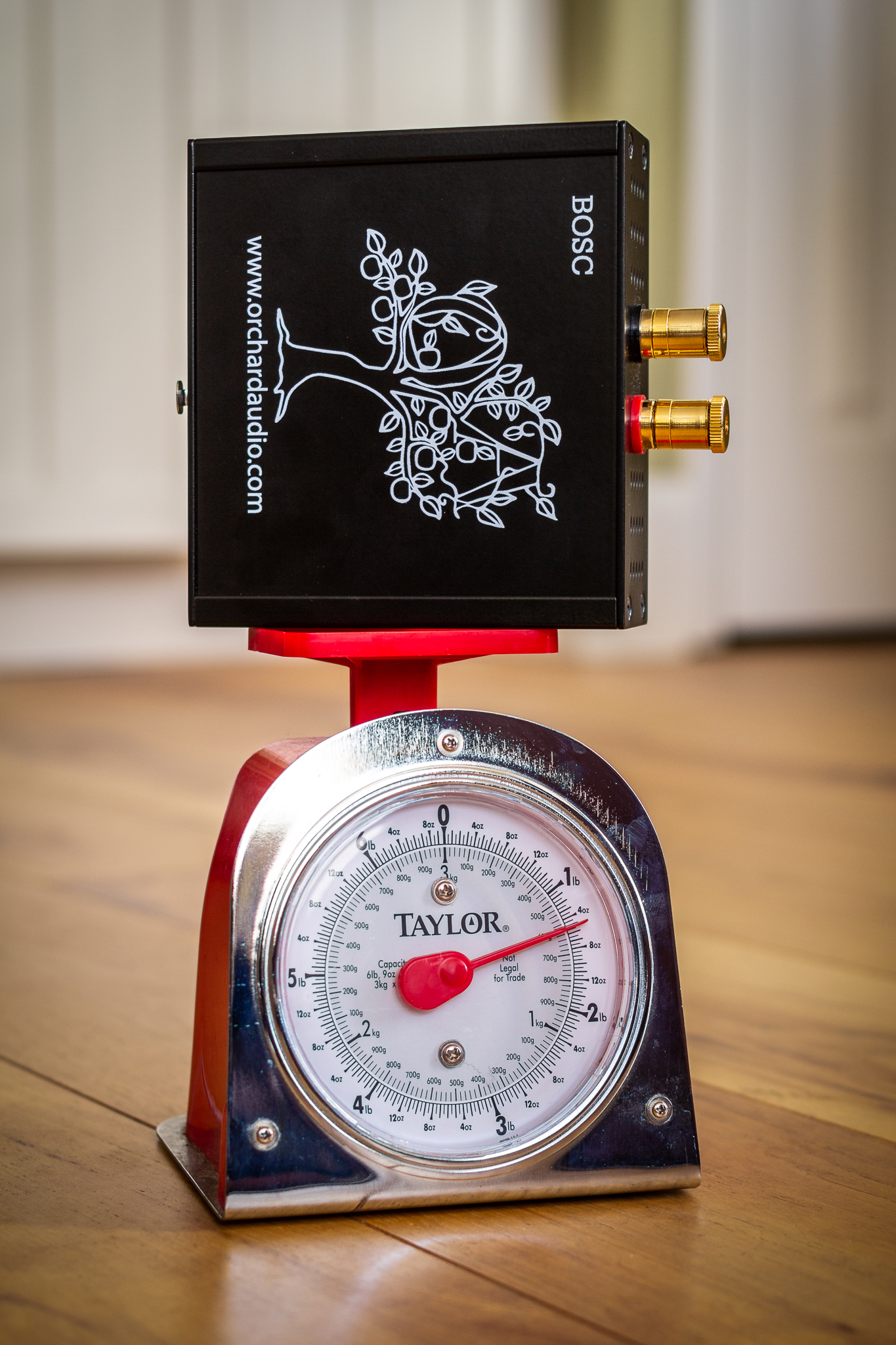 For a preamp, I've chosen the Topping Pre90 because of its excellent objective performance and copious balanced inputs (with the optional Ext90 module). Its balanced outputs have a low impedance of 40Ω, and it offers up to 16 dB of gain (9.3Vrms). That's plenty of drive for the Orchard Audio monoblocks. It can simultaneously output from RCA jacks, which will be convenient for adding the SVS 3000 Micro subs.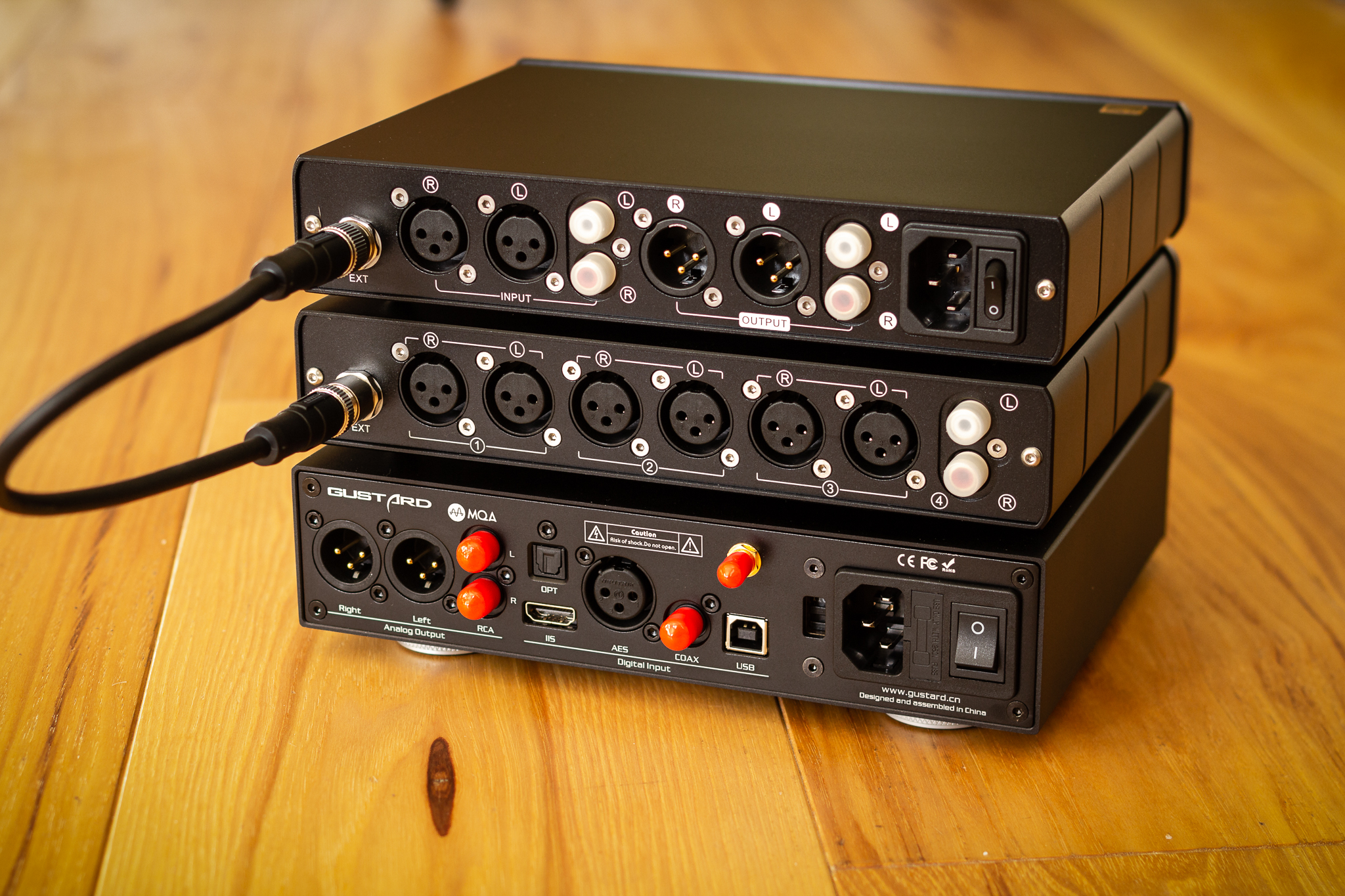 Sources
Being a computer audiophile, all of my sources are various DACs or streamers with integrated DACs. The source components for this build include a VitOS for Raspberry Pi 4 Model B from Silent Angel, which functions as a network audio transport (Ethernet in, USB out). Roon Bridge software on VitOS enables streaming to any USB attached DACs. My primary DAC is the amazing X16 from Gustard. Its objective performance and build quality match the Topping Pre90 preamp. I also have several other DACs in frequent rotation, including the Khadas Tone2 Pro, Orchard Audio Pecan Pi Streamer, SMSL Sanskrit 10th V2, and various products from iFi Audio.
Putting it all Together
I'll use estimated MSRP prices to see if the system I've assembled for this project is in the ballpark for what Paul recommends.
| Component Type | Make and Model | MSRP |
| --- | --- | --- |
| Loudspeakers | Valorem Audio Primum | $3,375 |
| Subbass System | SVS Micro 3000 (two) | $1,500 |
| Power Amplifiers | Orchard Audio Starkrimson® | $1,500 |
| Preamplifier | Topping Pre90/Ext90 | $850 |
| Streamer + DAC | RPi4 + Gustard X16 DAC | $575 |
| Total | | $7,800 |
Excluding the subwoofers, the loudspeakers account for 54% of the system's cost; adding subs to the "speaker" column drives this to 63%…definitely within Paul's 50% to 70% range. Of course, I've not included the cost of accessories like interconnects, cables, power conditioning, racks, and room treatments. I'll discuss these more later. Until next time…